we are currently updating our listings.. please be patient,,, and enjoy the holidays!

Offering replicas of historic & contemporary Labyrinth designs, and artistic gifts.
Please email us with questions and suggestions! info@labyrinthshop,com
FREE SHIPPING ON DOMESTIC ORDERS OVER $100. We accept online orders for shipment to USA, Canada, UK . Domestic shipping charges are based on order amount. We use PAYPAL checkout services for secure online Credit Card transactions. Please EMAIL for shipping to other locations! Telephone 317-842-2997.
NEW FROM PAXWORKS
Morphing Labyrinth Mugs!
Add a warm beverage, and these mugs morph before your eyes! Each mug has a classic 7 labyrinth on one side, and a Chartres Cathedral labyrinth on the other side.!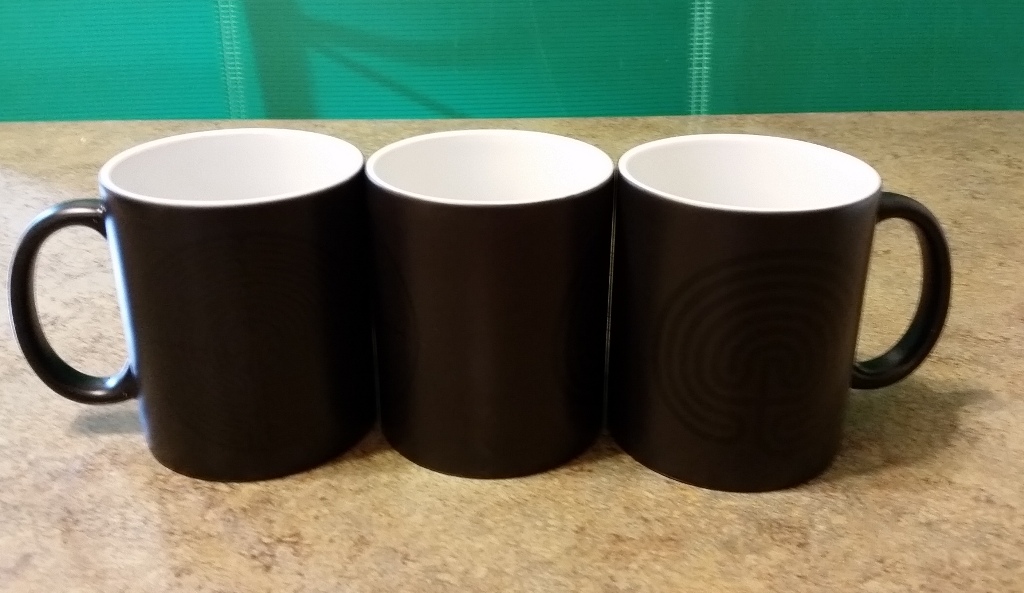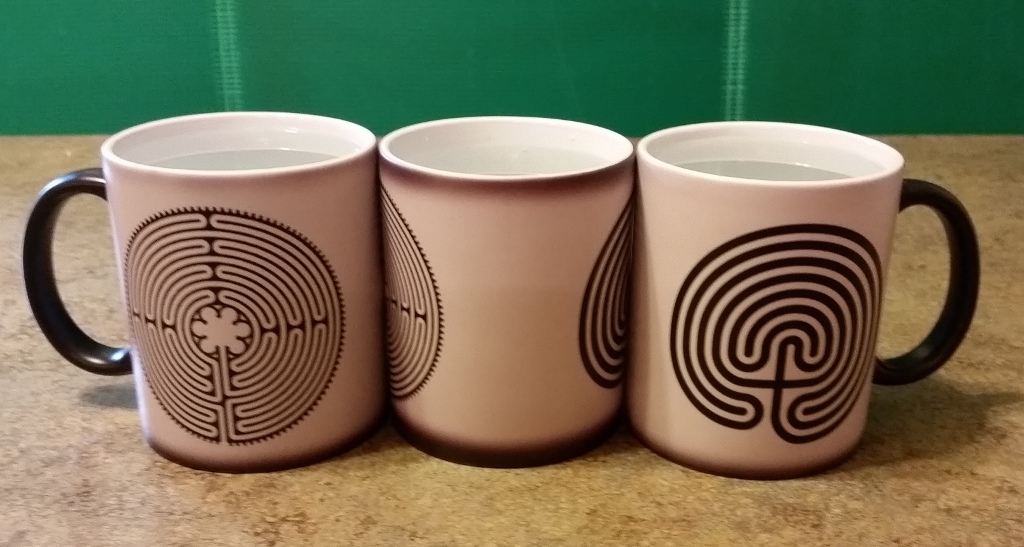 Designed by Paxworks for the Labyrinthshop, thses special edition mugs will be excellent gifts for the labyrinth person that has everything, except one of these mugs!

Personal Chartres Labyrinths
These replicas of the 11-circuit Chartres Labyrinth can be carried along on a morning walk or conveniently displayed in your home or office on a desk or coffee table! BOTH Include a wood stick for 'walking' the grooved path and a cloth storage bag. They are 4.5 inches wide, about the size of a CD and are a perfect size for contemplation and study. Make this Archetypical labyrinth part of your daily routine!
Pewter 4.5" $32.00 each
NEW from PAXWORKS
The Gossembrot Labyrinth
4 inches, cast metal, with cloth carrying pouch.
The Gossembrot labyrinth has seven circuits with its turns based on a five pointed star and 'doubled' or four paths deep. The original drawing is in a manuscript by Sigmund Gossembrot the Elder of Augsburg, ca. 1480. There are few references to this pattern in modern times, and we hope you find it unique in your experience!
NOTE: this design was introduced by PAXWORKS at the 2010 Labyrinth Society Gathering in canvas
limited edition pricing at $22.00
Classic-7 Labyrinth 4.5"
This is the ancient Classic-7 (Cretan) Labyrinth. It can be carried along on a morning walk, or travel with it! It can be conveniently displayed on a desk or coffee table! Follow the path in meditation or prayer. No stylus needed, the path is wide enough for your finger!. Includes a cloth storage bag.


NEW
16 inch Chartres Labyrinth
screen printed on canvas and poly-canvas
note: This is the same material that is used to make Paxworks full size portable labyrinths.
Each was once connected 'by a thread' to a large labyrinth being walked somewhere in the world!

(sorry, brown fabric out of stock)



REFLECTIVE Chartres and Man-in-Maze Labyrinth Stickers
Stickers are LARGE 4.5 in., CD size, or MINI 2.5 inch size. Printed on weather resistant MIRROR-like material ! For correspondence, cars, notebooks, gifts, laptops, luggage... craft projects, Mount on old CDs to make sun catchers!! (note: Man-in-Maze only available in MINI size) sold in SIX packs:
Our system uses PAYPAL checkout services or your MC, Visa, Amex or Discover. you do not have to be a PAYPAL Member! To see your cart; or make adjustments click the "view cart" button. Orders are entered only if you click the "pay" button. You will receive a confirmation email when order is completed. We are confident you will be satisfied with our products. We will exchange or refund less shipping costs, if return is requested within seven(7) days of receipt. Thank you for taking time to visit with us!
HOME